Merece la pena leer el artículo  3 Theorems on the Economic Value of Data
y la aproximación que hacen al concepto del Economic Value of Data (EvD)
Mi resumen, muy, muy, muy […] rápido:
Teoría 1: agrega y extrae insights
Teoría 1: El retorno viene después de la agregación y de aprender las relaciones entre los mismos. Vender los datos es sólo un modelo de negocio, el producto es lo que se ha aprendido
It isn't the data that's valuable; it's the relationships and patterns (insights) gleaned from the data that are valuable.
[…]organizations should not focus on the monetization of their data, especially selling their data. Selling data is a business model decision, not a business transaction. And there are significant liabilities that await an organization that moves into the business of selling data .[…]
[…]Instead, organizations should focus upon the monetization of the insights derived from the data. The monetization value isn't in the data; the monetization value is in the unique customer, product, service, operational and market insights that are gleaned from the data. It is from these insights that organizations will be able to identify new services, new products, new customers, new markets, new audiences, new channels and new partnerships. […]
Teoría 2: Los patrones de predicción son lo importante
Teoría 2: Primero cuantifica los procesos, etc… detecta patrones y después realiza las predicciones. El dato tiene valor en sí mismo.
It is from the quantification of the relationships and patterns that we can make predictions about what is likely to happen.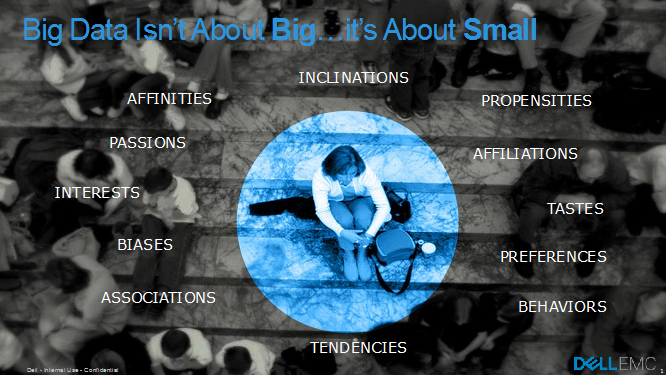 Teoría 3: La información sólo es valiosa si es accionable
Teoría 3: Uso de casos de negocio. Sólo podremos decir que la información es valiosa si aporta valor al caso de negocio
Predictions drive monetization opportunities through improved (optimized) strategic and operational use cases.